Back to staff directory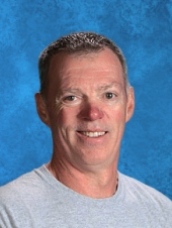 Teachers
Phone: 403-227-0060
Key Roles
I have had the amazing luck to work at École Innisfail Middle School, one of the best middle schools in all of Alberta, from our opening in 2003. For the past 16 years I have been the Physical Education specialist, as well as being in charge of all of our athletic extra curricular programs. Outside of PE, I enjoy spending time back in the gym coaching volleyball, basketball and track and field. I have, without a doubt, the best job in the world and by far the best classroom. I have been very lucky to be able to come to work all these years and get to work with students in a space they love.
I began my teaching journey at an elementary school in Carmangay Alberta teaching a 5-6 split class along with all of the physical education in the school. My wife and I spent two years in southern Alberta before moving back to Innisfail where we have been a part of the community for the past 26 years.
Outside of school, I enjoy time spent with my wife and two daughters. I am and always will be an avid sports fan with a special place in my heart for hockey and golf, and running - but mostly hockey. I have spent the last 18 years as a member of the Innisfail Golden Eagles hockey team. I also enjoy time reading and spending time on our patio with family and friends.